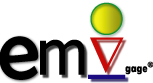 | | | | |
| --- | --- | --- | --- |
| | | | |
EMI Gage Product Data Sheets
Surface Finish (Texture) and Roundness Stylus Manufacturing
Click on the buttons below to see the brochures (Fast download GIF).
Click on the EMIstyli button to go direct to the stylus page.
For download of a PDF* file (Higher Resolution): Make a right mouse click on the text link then choose Save Target As... find a place on your computer to save the file.
*If you do not have the "Adobe Acrobat Reader" required to view PDF files you can download this free from the Adobe button below.
EMI Gage is not in any way associated with, sponsored by, approved by, authorized by or affiliated with Taylor Hobson. EMI Gage products are manufactured solely by EMI Gage. EMI Gage products and services are not genuine Taylor Hobson products nor are they sponsored by, authorized by or approved by Taylor Hobson.
*EMI Gage is not affiliated with Mitutoyo, Mahr, Taylor Hobson Ltd., Zeiss TSK or any of their affiliates. See also Terms and Conditions.